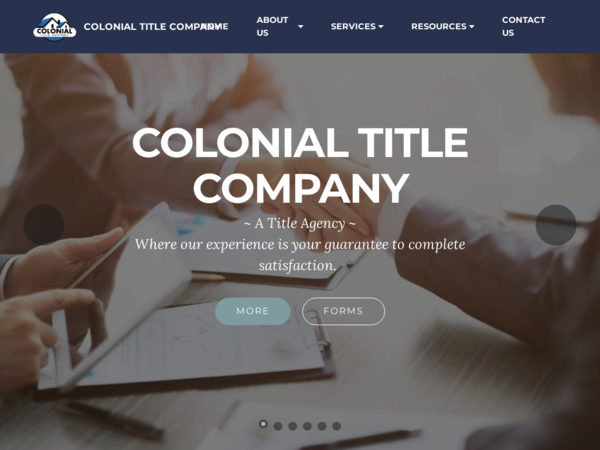 Colonial Title
"I cannot tell you how many other title companies that I have been thru where the closer had no clue what the file said and never read the file before closing."
FAQs
Title insurance seems expensive, can I get a better premium rate somewhere else?
The insurance seems expensive but the rates are controlled by the state. Every agent and underwriter is bound by controlled rates. You may receive a credit by turning in an existing title insurance policy you may have. We offer credits based on the age of the policy as well as the insured value.
What are tax escrows and how do they work?
Each month, when you make your mortgage payment, part of it is placed in an escrow account managed by your mortgage company. When your taxes are due, they are paid from this escrow account. Depending upon the date you close, there may not be enough time to build up an adequate amount to pay the entire tax bill. Therefore, the mortgage company may request that a number of months of escrow be collected from you at your closing, to ensure that there will be enough money to pay your taxes.
Can I appoint a Power of Attorney to act on my behalf at the closing?
It depends, if you are the Seller, the title company must approve the Power of Attorney prior to the closing date and they generally need the original Power of Attorney to record along with the Warranty Deed. If you are the purchaser, the title company must approve the Power of Attorney prior to the closing date and, if you are obtaining financing from a lender, they must approve the Power of Attorney as well. We will need the original Power of Attorney to record. Power of Attorneys can be rejected if not property prepared and executed.
What is a rescission period for refinances?
The Right of Rescission for primary residences is a non-waivable federal law that allows a borrower to cancel a refinance decision anytime within three business days of the closing, excluding Sundays and sometimes Saturdays. If you are refinancing an investment property, there is no Right of Rescission. It is an immediate disbursement at the time of closing.
Is there a rescission period for purchases?
No. There is no right of rescission on a purchase. Colonial Title Company strongly recommends the use of competent legal counsel BEFORE you sign your purchase agreement.
Get the answers to more questions on the FAQ page on our website.
i